1Jun2022
Singapore's first facial cleansing tablet sets its sights on crushing green goals
All it takes is a little play to start a new sustainable skincare routine:
CRUSH—SPRINKLE—LATHER—RINSE
Singapore, Jun 1, 2022 — Homegrown clean beauty brand JOMO Studio announces the launch of ROSE CRUSH, a daily facial cleansing tablet that is clean and effective and promises to be gentle on the skin and the environment. Made for the minimalist conscious beauty lover on the go, this new unconventional solid cleanser is the first of its kind to debut in Singapore.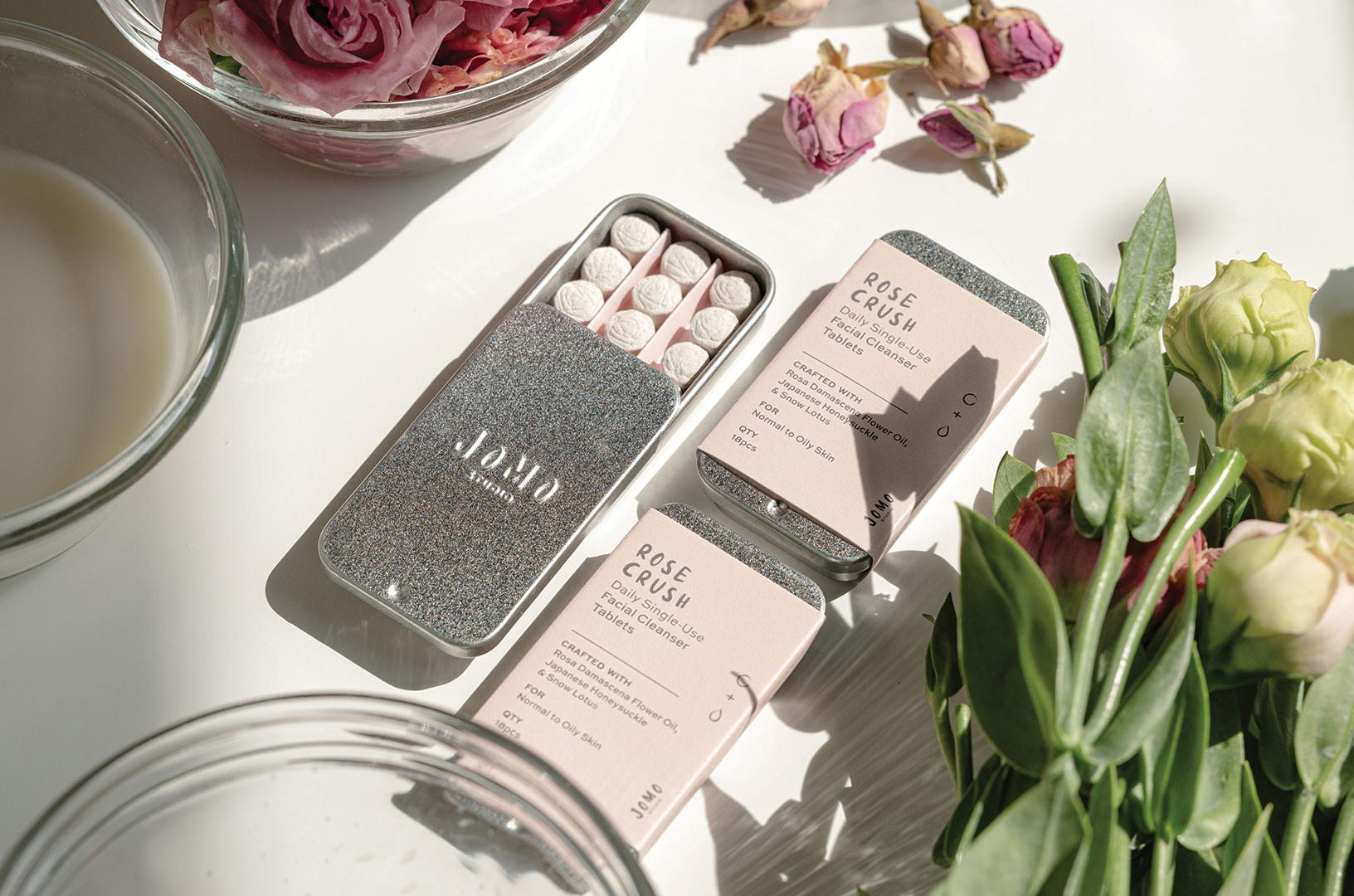 "With all the personal care products we were packing into our travel bags, we always felt like we were taking a guilt trip even before going on the trip itself. Because we are well aware that all these containers and tiny sample packets will end up in the trash and later in the landfills," said Joey Gan, co-founder of JOMO Studio. "For most of us, the basic facial cleanser is a must-have to pack for every trip, especially if you've got sensitive skin. The last thing you want to deal with is a breakout or an allergy crisis on vacation. So that got us thinking about how we can create an essential personal care item that is clean, safe, effective, eco-responsible, and sustainable in every way, from ingredients to packaging, and even small enough to carry in our pockets. That's how we got ROSE CRUSH on the production line today."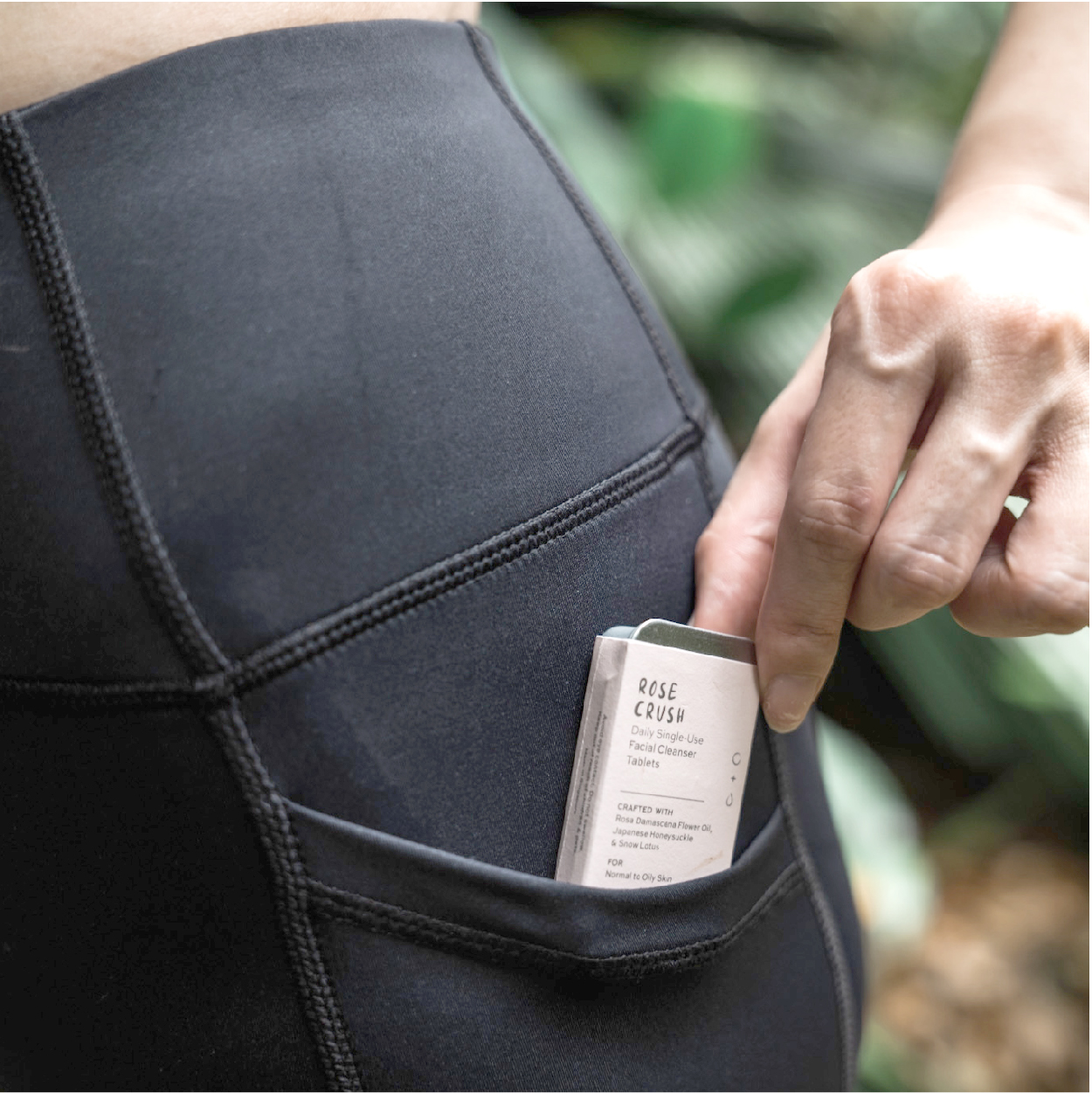 Designed with plastic-free and zero-waste goals in mind, ROSE CRUSH comes in recyclable tinplate packaging and is refillable for life. Each tablet contains the precise amount of product for a single wash, and every dose packs a punch of natural goodness with over a dozen nourishing botanical and science-backed ingredients (such as rose oil, Japanese honeysuckle, coconut milk, oats, aloe vera, and snow lotus) working in synergy to soothe, nourish, hydrate, and add glow to the skin. Like all products by JOMO Studio, ROSE CRUSH is paraben-free and cruelty-free. It also contains no artificial fragrance and is suitable for vegans.
The new daily facial cleanser in its most unique tablet form calls for a whole new skincare regime that is fun and easy to upkeep, involving a four-step instruction: 
1. CRUSH the tablet between fingers onto the palm 
2. SPRINKLE water over the powder 
3. LATHER between palms to form a mild foam 
4. Then gently massage the foam over the face and RINSE well 
 "To get people to change their deep-seated lifestyle habits is not going to be easy. But we believe that education is key to effecting change. And fun learning can bring it further. "Play" has always been in the JOMO Studio DNA, and there's always a kind of satisfaction to being hands-on. By engaging consumers in a little play in the step-by-step ROSE CRUSH facial cleansing instructions, we hope to help them adopt a sustainable beauty routine that contributes less waste to the environment," said Tiffany Wang, co-founder of JOMO Studio. "Small lifestyle changes are all we need to drive change. And if everyone can do their part, we'll be crushing green goals in no time!" 
ROSE CRUSH is priced at SGD28 for every box of 18 tablets. The product is available on JOMO Studio's online store.
ABOUT JOMO STUDIO: 
Established in 2019, JOMO Studio is a Singapore-based clean beauty brand started by co-founders Joey Gan and Tiffany Wang. Their friendship blossomed over a final year sustainability project in their university days, but little did they know that they would continue to bond over dream projects at their own start-up over a decade later. 
Clean, noble, and playful beauty is at the heart of JOMO Studio. Their products promise clean, safe, and eco-responsible standards. They are vegan formulated, free of parabens and animal testing. The clean beauty brand strives for continual product innovation to advocate a zero-waste and plastic-free future. And their ever-popular DIY clean beauty workshops (aka "playdates") continue to be one of their core services, aligning with their mission to drive sustainability awareness and adoption through fun education.